The Nigerian Cultural Heritage has concluded plans to celebrate Lagos State, children and culture on May 27.
The programme tagged [email protected] and Children's Day Celebration is a cultural event to celebrate the state called Centre of Excellence, which clocks 55 on the day, while also celebrating children since the Children's Day, fall on the same date.
It will thus host pupils from many schools to the event holding at the Lagos State Council of Arts and Culture, Alausa, Ikeja.
Director of the Nigerian Cultural Heritage, Kemi Fanimokun-Oldaipo, says in a statement, "We have invited children from different schools in Lagos State to put up cultural performances and participate in various competitions. This year's theme is: Culture as a Tool for Nurturing and Empowering Children.
"We take particular interest in children because we want to catch them young and instill good morals in them. We recognise the fact that children learn faster, hence the campaign to save the Nigerian child from losing their cultural identity. Nigerian Children Cultural Heritage is a child-focused initiative promoting our cultural values and indigenous languages."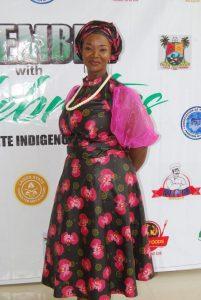 The group had its first event is in August 2019 at the Eko Club in Surulere and the turnout was massive. Although Fanimokun-Oladipo notes that the Nigerian Children Cultural Heritage initially had to cope with funding challenges, she adds that the determination to make a difference has kept it going. She, however, calls on the Lagos State Government and other stakeholders to support it.
She recalls that the Speaker of the House of Representatives, Hon. Femi Gbajabiamila, has expressed support for the initiative, including via a video broadcast he made. Yet, she is praying for more, especially financial backing to help in the execution of the projects.
Fanimokun-Oladipo says, "We have a bit of challenge with parents leaving their children, especially because most parents don't understand the essence of mother tongue and other Nigerian languages.
Funding has also really been tough. It's mostly personal funds, support from few family and friends, products support from a few companies that have kept us going. We have yet to get the desired funding from the government and corporate bodies and the society at large. We need encouragement.
"We want government and everyone to understand the import of our crusade. Our culture is everything, our languages are our identity. A language that children don't speak is also on its way to extinction. So, especially in an urban setting like Lagos, someone has to champion the regeneration cause and that is what we are doing at the Nigerian Cultural Heritage."